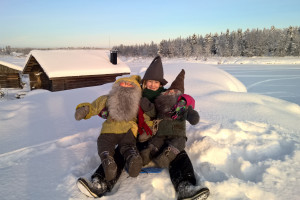 Step in toa fairy tale.
ELVES VILLAGE CAFÈ
open daily 10 am. – 4 pm.
Palosaarentie 30
FIN-99140 Köngäs
tel +358 16 6510 500
Experience a place where human and nature are the same and time is not an issue. Here you can feel the magic of Lapland and breathe the almost the purest air in the world.
Elves Village and lodge hotel Taivaanvalkeat are an unique complex at the river bank of River Ounasjoki. Only eight kilometers from Levi Center you will find a place that is one of a kind. There are no street lights, no demands, only peace and joy of life.
Elves Hideaway is situated in Levi, Köngäs village. It only takes 30 minutes to drive from the Kittilä airport to Köngäs and it´s very easy to find when you are coming with your own car.
Accommodation, meetings and events can be arranged in the main house. The courtyard offers wide selection of activities to combine to your stay. This place is perfect for groups, families and for You, if you want to experience something different.
Elves hideaway is an attractive destination based on stories, fantasy, culture and mythology of Lapland. It doesn´t compete with traditional amusement parks. There are two strong traveling trends in Elves hideaway: nature and culture. It will be open all year round and it invites travelers from all continents, both adults and children.
Step in to the Living fairy tale of Lapland.
---
Tonttulan seikkailut jatkuvat somessa